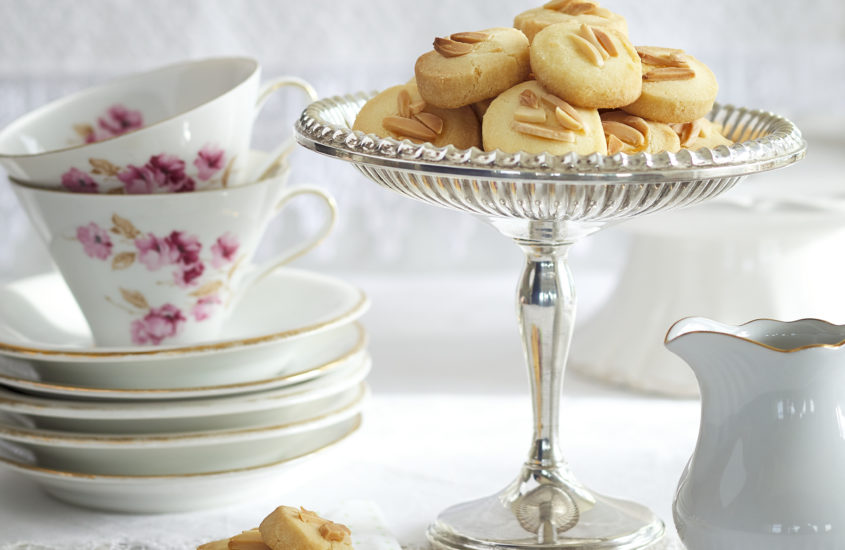 Text SIGRÍÐUR BJÖRK BRAGADÓTTIR  Photo KARL PETERSSON
Bessastaðir cookies were baked in my mother's childhood home and were considered the finest and best Christmas cookies. They are made from ghee, which is how the flavor of the butter shines through. My mother had sweet memories about her father, who participated in the finer baking and chocolate-making for Christmas, the only time he came near cooking. 
The Bessastaðir cookies were baked at Bessastaðir, Iceland's Presidential residence, during Vigdís Finnbogadóttir's time in office. They were served in a silver bowl along with coffee to guests who came for a short visit. The recipe is originally from Jakobína Thomsen, who was married to poet and editor Grímur Thomsen, they resided in Bessastaðir in the late 19th century. 
BESSASTAÐIR COOKIES
40 cookies
250 g butter 
250 g powdered sugar
250 g wheat 
1 egg yolk 
chopped almonds or nut kernels
In this recipe I use ghee, which is also called clarified butter and means that the milk is removed from the butter. With ghee the cookies retain their shape during baking.
Melt the butter over low heat, pour in a bowl, and allow to harden in a refrigerator. Remove the hardened butter and scrape the soft white part (milk protein) away.
Mix flour and powdered sugar in a bowl, chop the clarified butter into small pieces, and roll it up until it becomes a cohesive dough.
Divide into four pieces and roll up into sausages with a diameter of a quarter. Cool for two hours.
Heat the oven to 180°C (170°C with a fan) and cover two baking trays with baking paper. Slice the dough into thin pieces and place them on the plate.
Put a tiny drop of egg yolk on top of each cake and sprinkle with chopped almonds or nuts.
Bake for approx. 15 minutes.
The cookies are not supposed to change color, they stay almost white.