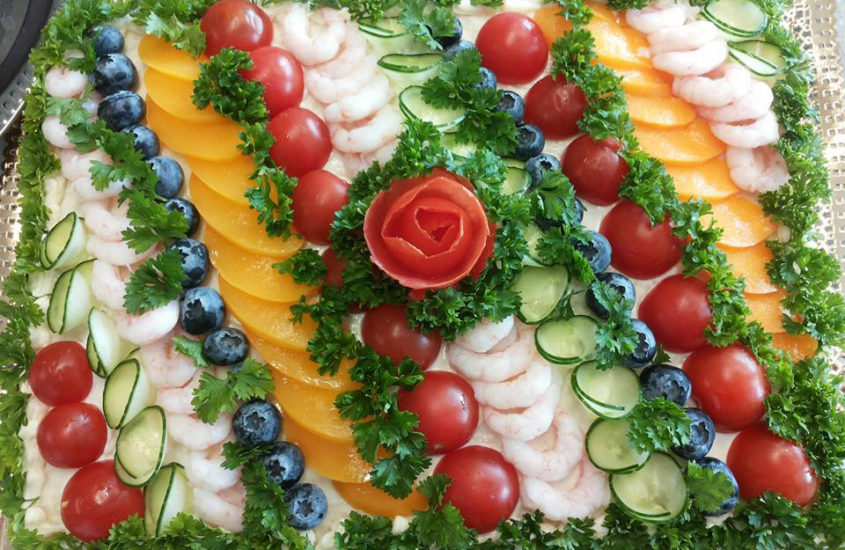 Text MARGRÉT RÓSA JOCHUMSDÓTTIR
Reigning supreme again at every social gathering – Icelanders' beloved sandwich cake continues to evolve with the times. Although most Icelanders might feel as if the sandwich cake has always been there, in fact it only became popular in the early 1950s. In the old days, the cake usually consisted of horizontally cut white bread layered with mayonnaise-based salad, mixed canned vegetables, thinly cut smoked lamb (hangikjöt), and garnished with sliced boiled eggs. And although the recipe did begin to vary a little as the years went by, most sandwich cakes remained true to tradition.
A new and surprising chapter in the history of the Icelandic sandwich cake began with the Facebook group Brauðtertufélag Erlu Og Erlu, which started as a joke. After failing to find advice on the Internet, namesakes Erla Hlynsdóttir and Erla Gísladóttir turned to the social network and founded a group dedicated to the topic. An instant success, it attracted 10,000 followers in only a few months. With hundreds of photos and recipes, the group was a long-awaited platform for all those wishing to share their love for the cake and get tips from the more experienced. In the group, sandwich cake aficionados can also find answers to their questions, as well as inspiration, such as mixing skyr, cream cheese, and chili sauce with the mayo.
The astounding popularity of Brauðtertufélag Erlu og Erlu even led to a sandwich cake contest last August, during Reykjavík's Culture Night, which was a great success. There were three categories: the most original, the best-looking and the tastiest sandwich cake. Fun fact: the mayo salad in the cake that was selected in the most original category contained dried stockfish – which probably might upset traditionalists. But for the rest of us who enjoy experimenting in the kitchen, it was truly inspiring.