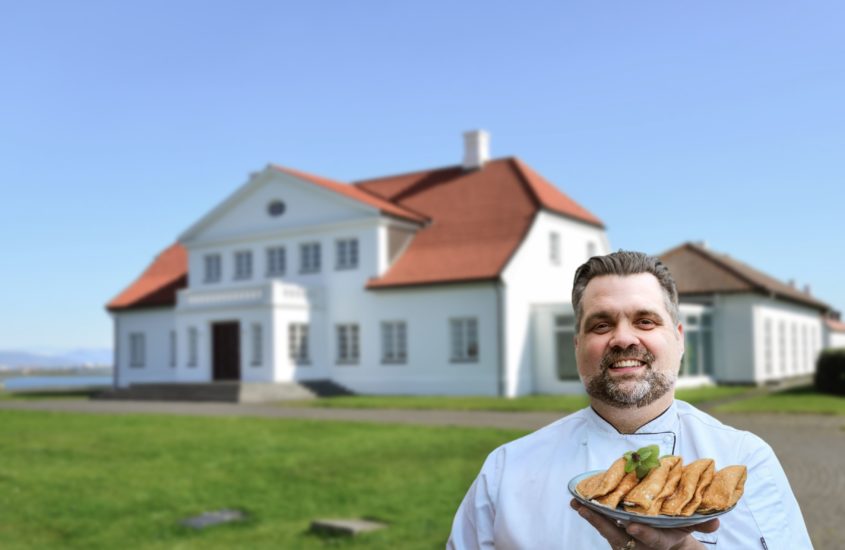 Text SIGRÍÐUR INGA SIGURÐARDÓTTIR
When
Jóhann Gunnar Arnarsson 
learned to bake Icelandic pancakes from his grandma, he had no
idea they would end up playing a significant culinary role at Bessastaðir, the presidential residence.
Traditional Icelandic pancakes with rhubarb jam and whipped cream, were a big hit during Johann's
time as a caretaker at Bessastaðir. Mikhail Gorbachev was the first guest treated to them as a
dessert and ever since they've become a favourite on the menu.
When Jóhann learned to bake pancakes with his grandmother, Ásta Steingrímsdóttur, little did either of them know that their pancakes would end up playing a significant culinary role at the presidential residence. "For Icelanders, Bessastaðir has always been a source of pride. A national home of sorts and a place where we could offer guests Icelandic food made with Icelandic ingredients as often as possible. We always made pancakes, which were served at meetings or offered as dessert. But the story behind them becoming more of a tradition began with an official visit from Mikhail Gorbachev, former leader of the Soviet Union, and the celebratory meal that was served in his honour at Bessastaðir. I'd suggested that we serve the cream-filled pancakes for dessert and after some negotiation, the matter was settled. They went down so well on that occasion, we ended up serving them frequently for dessert to our visiting international guests and dignitaries," says Jóhann, with a smile on his face.
"I'd suggested that we serve the cream-filled pancakes for dessert
and after some negotiation, the matter was settled"
What was most surprising to him, though, was how impressed Icelanders were that humble Icelandic cream pancakes were being served. "The jam I prepared myself from the rhubarb growing at Bessastaðir. I always mixed the jam into the whipped cream before putting it in the pancakes. That's the way my grandma taught me; she thought it looked more presentable that way since the jam didn't make a mess on the plate," says Jóhann, while dishing out some tasty samples. Jóhann is a dance teacher by profession, but decided, together with his wife Kristín Ólafsdóttir to apply for the position of house manager and caretaker of the Bessastaðir estate. Their application was successful and they lived at the presidential palace for the best part of ten years during Ólafur Ragnar Grímsson's presidency. Where they'd oversee meetings, receptions, organise formal dinners and much more.
THE PANCAKE MAKING
Cookery has always been close to Jóhann's heart. He was still only knee-high to a grasshopper when he first started cooking. "I learned to make pancakes with my grandparents in Akureyri when I was still just a lad. My grandma would always make them on Sundays. At first, I was only allowed to sprinkle sugar on them, but soon I was allowed to take them off the pan when they were ready as well. Eventually, I was trusted to make them myself. They had to be thin so I had to be quick to distribute the batter evenly on the pan: it was a tricky job. It was also important to get the colour right. My gran would never put sugar in the batter; she'd always sprinkle the sugar in between them instead. To get the perfect colour she would put coffee in the batter mix," remembers Jóhann.
"I learned to make pancakes with my grandparents
in Akureyri when I was still just a lad"
His gran would flavour the pancakes with either vanilla or cardamom extract. Although Jóhann himself prefers to use vanilla, since it's more appealing to his guests. Some people even use lemon to flavour their pancakes. Everyone seems to have their own unique twist on making them. When asked for advice on pancake making, Jóhann says it's a good idea to let the batter mix stand for half an hour at room temperature before cooking. "Like my gran, I would not put sugar in the mix either. Also, watch the temperature carefully, as the pancakes have a tendency to burn."
DESSERT WITH AN INTERESTING HISTORY
Jóhann says that apart from the skyr, their pancakes are the only dessert with an interesting history. "Pancakes are actually not that unique to Iceland and can be found far and wide in a variety of different shapes and forms; but, perhaps not with whipped cream. I remember for instance trying a rolled pancake in Serbia which was served with flaked almonds. It might be time-consuming to make pancakes, but I think it's important to keep up the tradition. The airport in Akureyri still serves old-fashioned rolled up pancakes with sugar, and I think that's absolutely marvellous."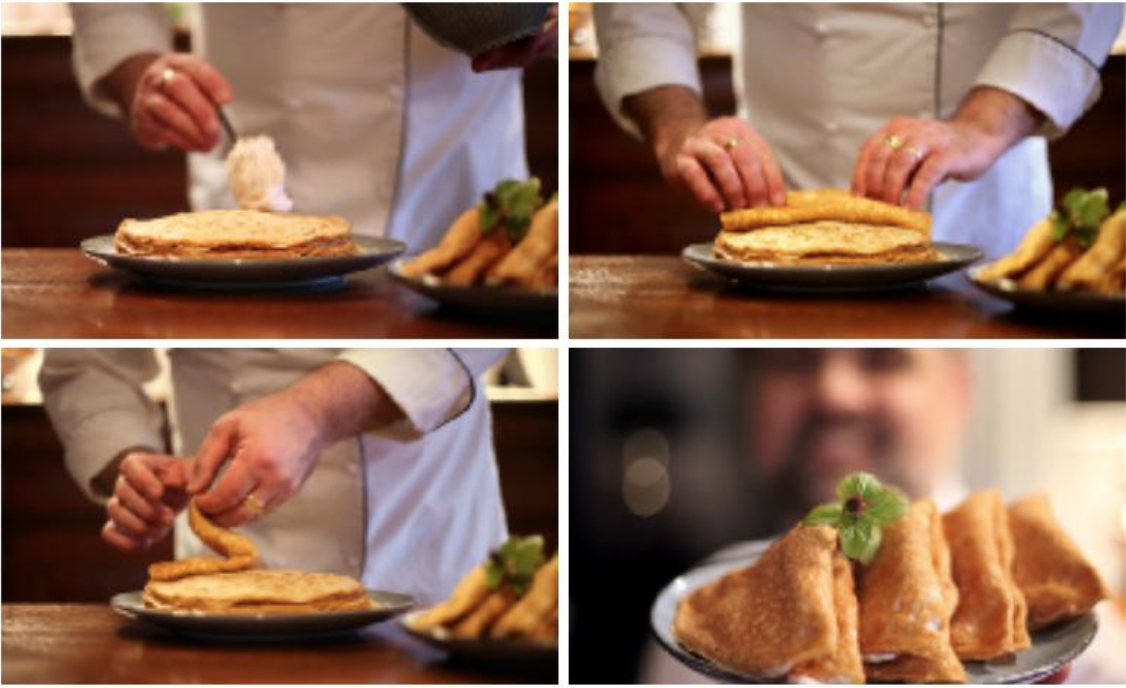 ICELANDIC PANCAKES (PÖNNUKÖKUR)
300 g flour
2 eggs
6 dl milk
0.5 dl strong coffee
1.5 tbsp. butter (melted)
1 tsp. baking powder
1 tsp. vanilla / cardamom extract
Method
1. Place the dry ingredients in a bowl.
2. Add 3-4 dl milk and stir until the batter mixture is smooth.
3. Add the coffee and remaining milk.
4. Add the eggs and mix well.
5. Melt the butter and let it cool slightly. Stir into the mixture together with the cardamom extract.
Fry the pancakes in a pancake pan on a relatively low setting.