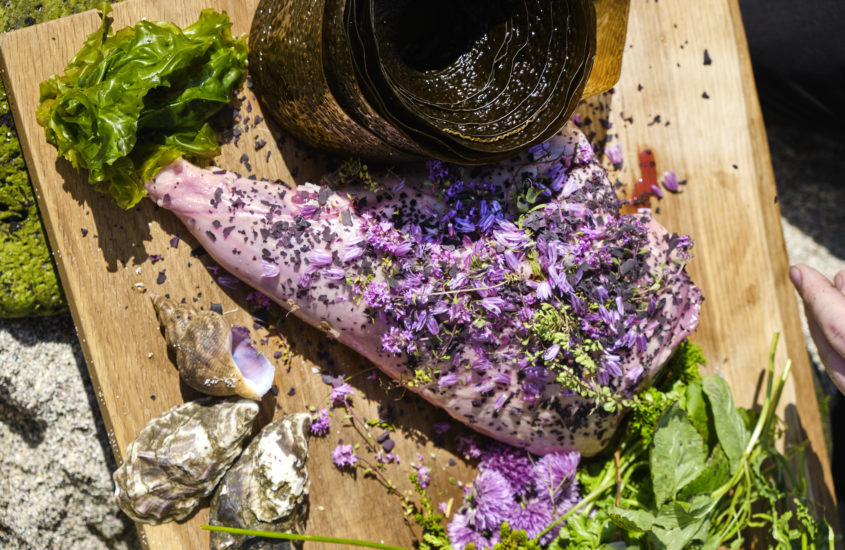 Lamb Wrapped in Sugar Kelp
This recipe comes from Hinrik Carl Ellertsson and Eydís Mary Jónsdóttir who are writing the first Icelandic seaweed cookbook in collaboration with Karl Petersson and Silja Dögg Gunnarsdóttir. The book will be published this year and will contain recipes and diverse information on why and how seaweeds, an underused food resource, can be sustainably and deliciously used in the kitchen.
1 leg of lamb
4 tbsp. Icelandic thyme, freshly picke
4 chive blooms
sugar kelp – enough to wrap around the lamb
Summertime and the living is easy. In this recipe, the kelp functions like salt. Therefore, the lamb doesn't need salt, and it has self-marinated by grazing in the highlands all summer long. The lamb is grilled on indirect heat at 150°C for 2 hours and over direct flame for 10 minutes, or until the core temperature has reached 59°C. Let the lamb rest for a few minutes before carving. Serve with freshly harvested vegetables, such as cauliflower and carrots. A salad can also be made of herbs from the seashore, such as oyster leaves.