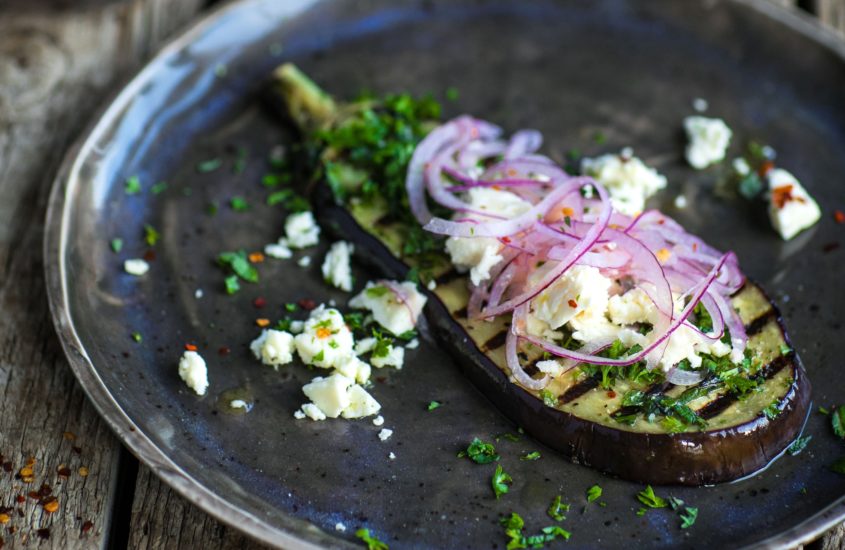 Eggplant can be cooked in numerous ways. This recipe comes from Dagný Rós Ásmundsdóttir latest cookbook "Roots – A Culinary Road Trip Around Iceland" and has a unique taste.
Pick a firm eggplant with shiny skin, or as fresh as possible. Although available all year round, eggplants are the most delicious in summer and autumn. 
INGREDIENTS
1 eggplant
1 red onion
white wine vinegar
a handful of fresh mint and parsley
100 grams of feta cheese
chili flakes
olive oil
salt and pepper
DRESSING
2 garlic cloves
juice from one lime
1 tsp. cumin
olive oil
Rinse the eggplant and cut into 1 cm thick slices.
Cut the onion into thin slices and soak in white wine vinegar.
Prepare the dressing. Mix garlic, salt, pepper, lime juice, cumin, and a dash of olive oil, in a food processor until it is pureed. 
Pencil the eggplant slices with olive oil on both sides and rub it into the meat.
Bake in a grill pan or on the grill for 3-5 minutes on each side. 
Chop the parsley and sprinkle over the eggplant slices.
Scatter the red onion, crumbled feta cheese, and dressing over the eggplant and finish off with crushed chili flakes. 
Other recipes from Dagný Rós Ásmundsdóttir latest cookbook "Roots – A Culinary Road Trip Around Iceland":
Chimichurri Cod
Rhubarb Cocktail
Cinnamon Rolls