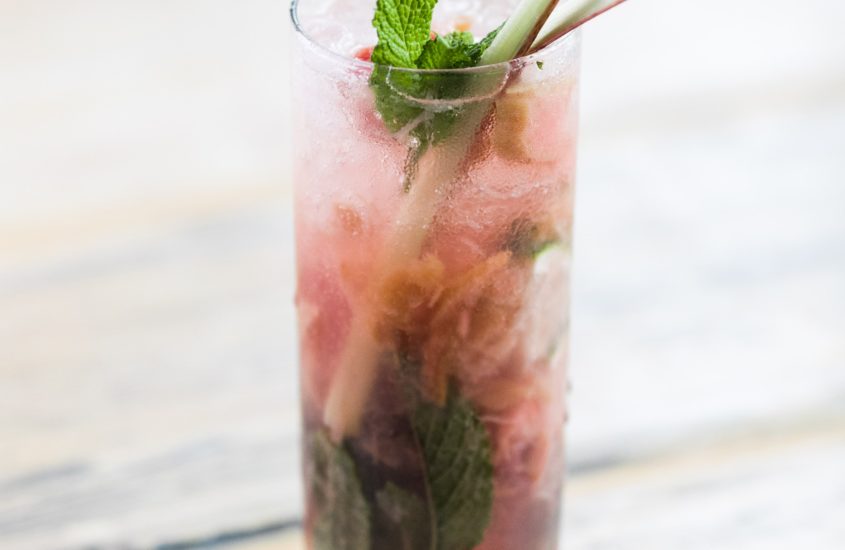 This recipe comes originally from Gísli Matthías chef at Slippurinn who made this delicious rhubarb cocktail recipe for Dagný Rós Ásmundsdóttir latest cookbook "Roots – A Culinary Road Trip Around Iceland".
PICKLED RHUBARB
2 parts rhubarb syrup
1 part vinegar
1 rhubarb, cut lengthwise
To pickle rhubarb, mix two parts of rhubarb syrup and one part vinegar. Insert the rhubarb and allow it to stand in a closed container for two days. 
RHUBARB COCKTAIL
30 ml clear rum
1 tbsp. raw sugar
1 tbsp. finely sliced rhubarb
½ lemon in wedges/slices
60 ml rhubarb syrup
crushed ice
sparkling water
fresh mint
A rhubarb cocktail is made in the same ways as a Mojito: Take a cocktail shaker and pour rum, then add raw sugar, fine slices of rhubarb and lime, as well as 60 ml of rhubarb syrup. Fill a glass with crushed ice, pour the cocktail in, and finally fill it with soda water. Garnish with pickled rhubarb, a mint leaf, and even a slice of lime.
Other recipes from Dagný Rós Ásmundsdóttir latest cookbook "Roots – A Culinary Road Trip Around Iceland":
Cinnamon Rolls
Grilled Eggplant
Chimichurri Cod