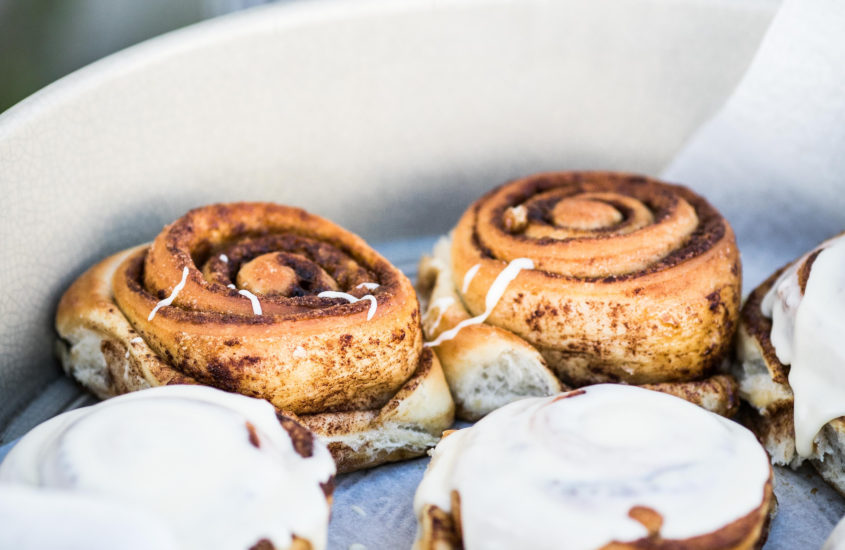 Iceland's Best Cinnamon Rolls
This recipe comes from Dagný Rós Ásmundsdóttir latest cookbook "Roots – A Culinary Road Trip Around Iceland". The recipe comes from Andrés at the restaurant Ottó in the town of Höfn, Southeast Iceland. These rolls are perfect in winter, as a good dose of cinnamon can keep you warm. 
DOUGH
750 ml lukewarm water
15 g dry yeast
20 g sugar
1,2 kg wheat
2 eggs
90 g soft butter
1 tsp. salt
FILLING
200 g soft butter
cinnamon
700 g raw sugar
GLAZE
500 g brown sugar
120 g soft butter
100 ml milk
1 tsp. vanilla drops
METHOD
Put all the ingredients into a mixing bowl, in the order that they are given. Mix into a dough. Allow it to rise under a plastic film for two hours, or until the dough has doubled. Roll out the dough with a rolling pin until it is 0,5 cm thick. Spread the butter over the dough, sprinkle the cinnamon over, and finally the raw sugar. Roll the dough and make the edge stick with a little water. Cut the roll into 24 slices and place on a buttered baking tray. Allow a bit of space between the rolls. Let them rise for one hour at room temperature. 
Heat the oven to 180°C
Bake the cinnamon rolls for 12-15 minutes and allow them to cool. 
Meanwhile, make the glaze in a food processor. 
Once the rolls have cooled down, apply the glaze with a dispenser. 
Other recipes from Dagný Rós Ásmundsdóttir latest cookbook "Roots – A Culinary Road Trip Around Iceland":
Grilled Eggplant
Chimichurri Cod
Rhubarb Cocktail