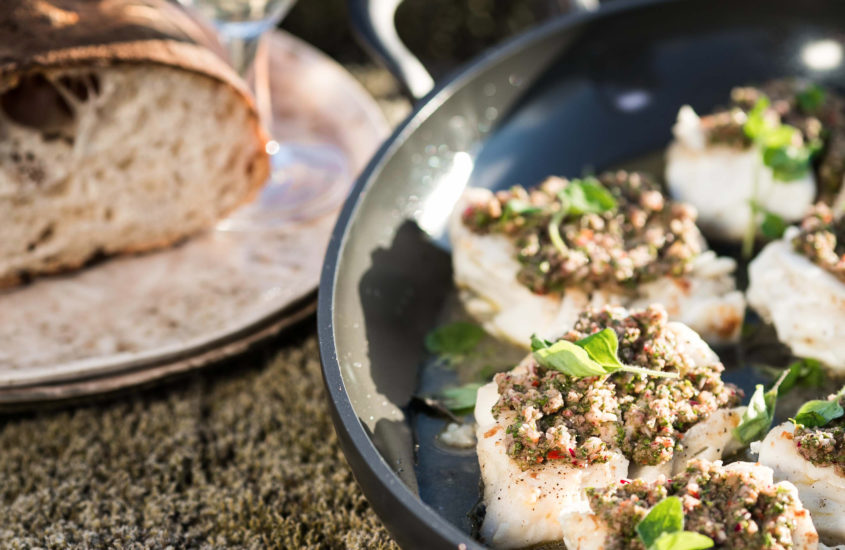 This recipe comes from Dagný Rós Ásmundsdóttir latest cookbook "Roots – A Culinary Road Trip Around Iceland". A simple and wonderful dish with a spicy twist.
INGREDIENTS
800 g cod
butter and olive oil
black pepper
sea salt
Heat butter and oil on a pan.
Fry the fish on both sides and season with pepper and salt.
Douse it regularly with butter so that it doesn't dry as it cooks. The fish can also be sealed in a pan and then baked in an oven at 160°C for ten minutes.
Put the fish on a plate and pour the Chimichurri sauce on top.
Serve with fresh green salad and bread.
CHIMICHURRI-SAUCE
100 ml red wine vinegar
2 garlic cloves
1 red onion
1 spring onion
½ lemon
coriander
oregano
2-3 pickled jalapenos (according to taste)
pepper and salt
Place all the ingredients in a food processor. Make sure to add the jalapenos according to taste or level of spiciness. Turn on the food processor and mix for a short while; the sauce should be chunky. Spread the sauce over the cod before serving.  
Other recipes from Dagný Rós Ásmundsdóttir latest cookbook "Roots – A Culinary Road Trip Around Iceland":
Rhubarb Cocktail
Cinnamon Rolls
Grilled Eggplant